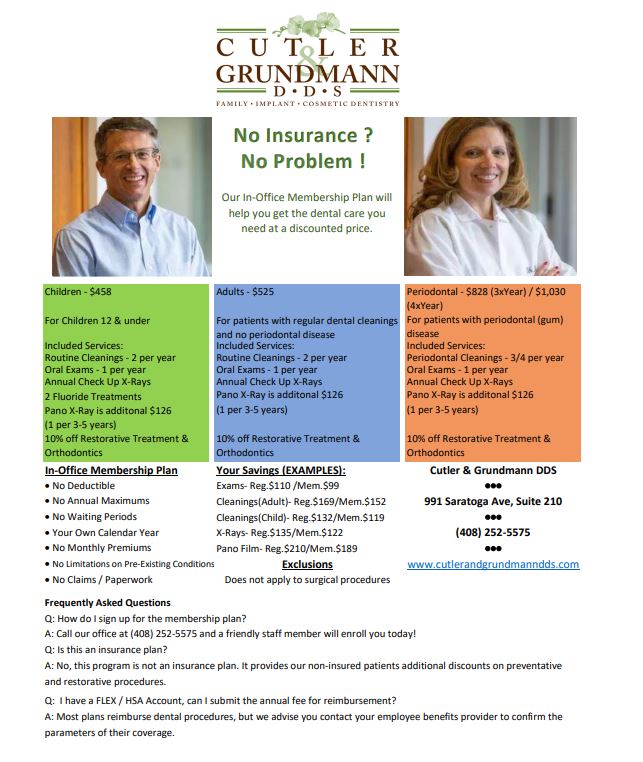 Terms and Details of the Membership Plan
Details
This is an annually subscribed reduced fee dental plan that allows our existing patients to receive quality dental care at a discounted rate from our usual, customary and reasonable fees. This is not an insurance plan, there are no claims processed and no payments made to any other health care providers. This plan may not be combined with any other discounts, insurance plans, CareCredit or other offers.
Membership Terms
Membership enrollment fees must be paid in full prior to any dental care procedures under the active plan.
The Membership will be active for one full year beginning on the day the enrollment fee is paid. 
If the participant does not utilize their plan benefits during their active period, they will not roll over to the following year. 
The Membership plan is non-refundable and offers no additional discounts.
Payments for treatment and/or additional services are the member's responsibility. Payment is due in full on the date of service to qualify for the discounts. 
Fees for Dental Services are subject to change during the year. 
It is the member's responsibility to schedule and keep all appointments offered as part of the Dental Membership Plan. Please notify the office at least 48 hours in advance if you must change an appointment in order to avoid missed appointment fees.